Are you an ISP or CSP? Are you facing problems in solving your customer complaints? Are you looking for the best Complaint Management Software for your ISP business? Look no more! H8 ISP Complaint Management Software improves operational efficiency and boosts customer satisfaction. It enables them to quickly and accurately respond to customer service requests and complaints.
H8 Customer Management Software comes with an easy trouble ticket management module that helps ISPs or CSPs in responding to complaints seamlessly and it even provides the real time analytics.
Whether it's a small organization or a large one, a good complaint management software helps in creating 'Happy Customer-Company Bond'.
Do you want to know the features of the best complaint management software? Why should you have one? Its benefits or importance? Then this guide is for you.
Let's proceed!
Best Complaint Management Software 2022: H8 ISP Software
H8 ISP Complaint Management Software permits ISPs to communicate with their customers across all channels and devices. You can rely on our platform to organize the tickets and complaints, automate easy steps, and determine issues faster.
A software that delivers the loftiest customer experience helps ISPs in growing their network. H8 ISP Software is one of them. Our software supports all issues and provides insights through analytics and reports.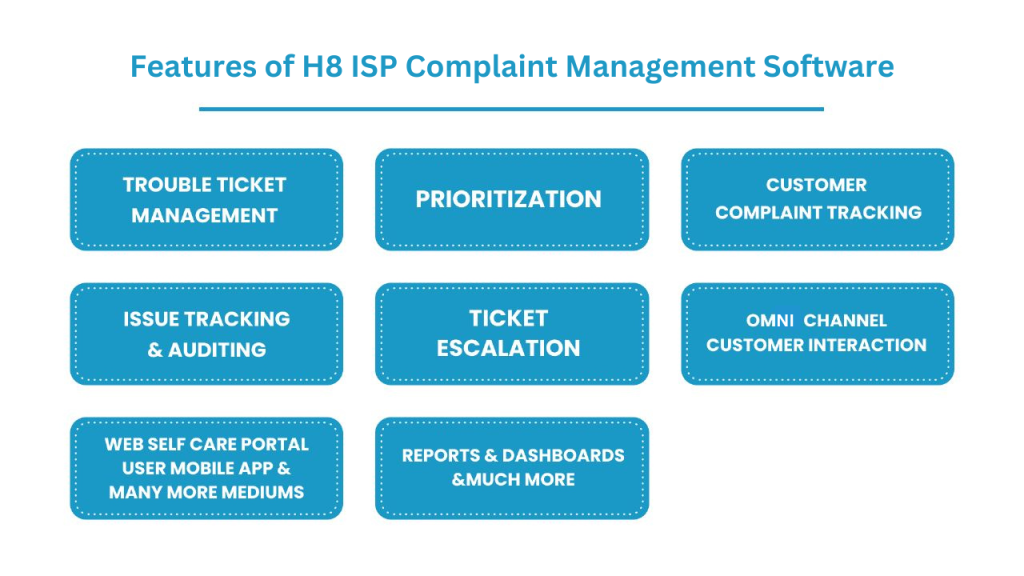 H8 ISP CMS Benefits
Some of the benefits of using H8 ISP Complaint Management Software are as follows:
Web-based and user-friendly complaint management software
Proper reporting for total issue lifecycle
Easy to use
Single view of all tickets
Smart workflows for all complaint data for further usage
Use H8 ISP Complaint Management Software to install & configure customer complaints by yourself and manage your ISP business hassle-free. Use our platform to manage your customers, their payments, payment recoveries, purchase, billing process, etc.
Why Choose H8 ISP Software?
Out of so many complaint management software, you must opt for H8 ISP Software because it comes with premium features. With the help of our software you can manage your internet subscribers anywhere anytime. You can now track your subscriber complaints efficiently even by sitting at your homes, offices, or restaurants.
It's main USP is that it is pre-integrated with our H8 BMS Software.
Our ISP Complaint Management Software generates various reports for analyzing the available data. You can visualize the progress & enhance the service with our solution. We take pride to be the one-stop solution for ISP or WiFi Hotspot service providers.
Our complaint and billing software are easy to handle. You can easily connect to our cloud-hosted ISP Subscriber Management Software and manage internet traffic for your customers.
Summing Up
H8 ISP Software comes with consistent and reliable support with a technically sound team of professionals. Apart from this, our software saves your time and energy thereby allowing you to concentrate on your core business.
Have any questions or want to know more about H8 ISP CMS? Write us a mail at h8ssrms@height8tech.com or call/WhatsApp us at +91-6358931775.
Follow us on Facebook, LinkedIn, Twitter, and YouTube to get updates on the latest technological advancements in the telecom sector.