In today's ever-growing world, ISPs are facing major competition and more demand. Old-school advertising methods like flyers and TV ads are not enough to attract subscribers to your ISP business, you have to understand that the market has changed.
That is why we have come up with a list of some strong marketing tips and tricks that will grow your ISP business.
Let's get started!
Tips to Grow your ISP Business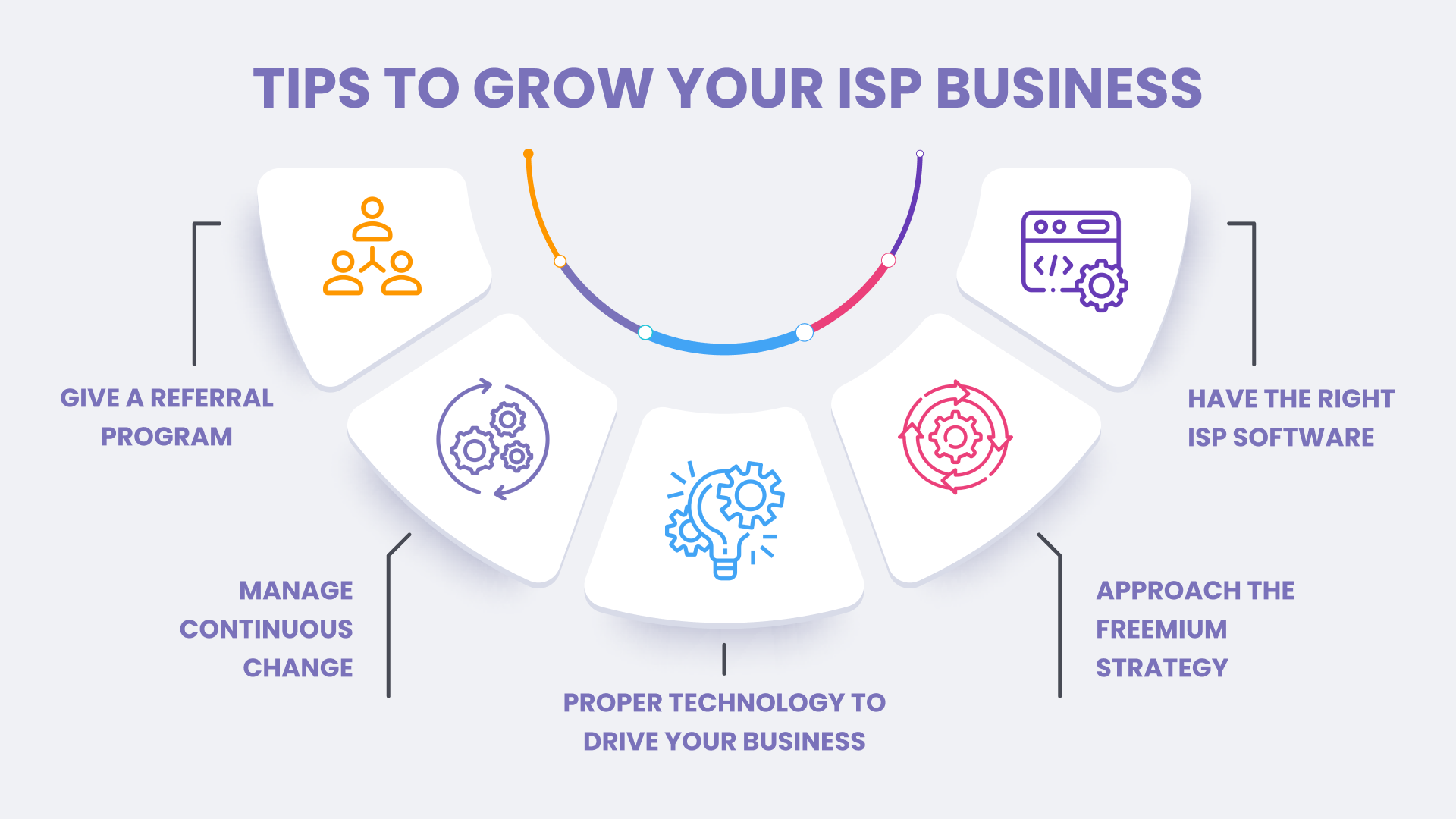 Give a Referral Program
The most powerful tool of marketing for business is word-of-mouth. Referrals from friends and family are often considered more trustworthy than traditional advertising. Because of this, referred customers are usually more valuable for a business. Apart from this, it can be less expensive than forms of marketing to acquire new customers.
It is the best way if your aim is to expand your customer base by leveraging your existing customers. There are various ways to apply this method. For instance, you can give your subscribers a discount on their existing plan whenever they bring a referral or you can give them a one-month free subscription. You can even give them extra benefits like 6-months free, more discounts, a free product, etc. if your customer brings in more than ten people.
Manage Continuous Change
It is important to be updated to the new changes continuously in the telecom industry. This needs future thinking, supported by market research and customer surveys that have to be translated into a clear vision and strategy. Also, it requires a continuous improvement in the ISP Software to accept these changes continuously. H8 ISP Software meets the needs of tomorrow's market and can relate to the new changes easily.
Choosing a reliable partner that is also constantly evolving will ensure the growth of your company. Don't be afraid of change, but challenge it.
Proper technology to drive your business
One of the biggest mistakes new ISPs make at the initial stage is choosing cheap and lucrative services. It may be possible to save money at the launch stage. But after some time, internet providers will face problems that these services are not enough to manage their business seamlessly as they lack proper technology or features.
Because of this, it is more cost-effective to choose an appropriate solution initially that will allow you to build a solid ground for your business and grow efficiently.
Approach the freemium strategy
You can consider offering your customers a freemium service. This strategy is most used by streaming platforms that allow users to listen to music or watch videos for free but with ads. If they want to remove the ads, they have to pay for the service.
You can implement this technique in your ISP business. For example, if a portion of your customers have a weak WiFi signal throughout their home and you have a WiFi extender in your portfolio of products, you can offer that add-on for free. However, if they want to manage that add-on and their router via an app, you could charge them for that.
Have the Right ISP Software
The right ISP Software is one that offers an all-in-one featured solution. All-in-one featured ISP Software allows you to centrally and seamlessly manage your business operations. It provides complete authentication, authorization, and accounting (AAA) along with OSS/BSS to operate and manage billing management modules. H8 ISP Software comes with cost-saving and revenue-growing capabilities. It provides everything an ISP needs to run its business smoothly and grow revenue.
Wrapping Up
Hope these tips & tricks will help you in growing your ISP Business. Want to know more tricks? Write to us in the below comment section.
Want to know more about how H8 ISP Software will help you in growing your ISP Business? Contact us right now by writing us a mail at h8ssrms@height8tech.com or call/WhatsApp us at +91-6358931775.
Follow us on Facebook, LinkedIn, Twitter, and YouTube to get updates on the latest technological advancements in the telecom sector.