Did you know telecommunications is one of the most dynamic and fastest-growing industries in the world? New technologies and business models are emerging at a higher speed in the telecom sector. General trends such as cloud acceptance, Cyber security, and 5G have all gained enough fame in recent years and will continue to transform the telecom sector in the year 2023. In addition to these trends, here are predictions for the top 5 telecom trends in 2023.
Let's proceed!
Top 5 Telecom Trends to Watch In 2023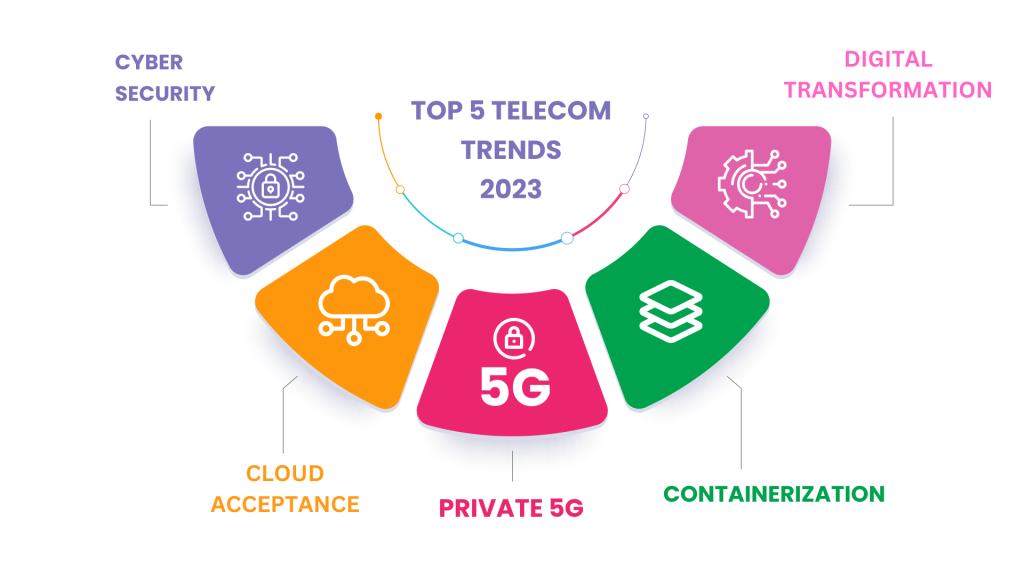 Cloud Acceptance
Embracing Cloud Technology has many benefits such as scalability and flexibility. In 2023, we will see even more telecom companies take a step towards cloud.Cloud computing is not a new trend, but it needs to be accepted and implemented intensively and extensively to enjoy its benefits.
ISP can reduce investment and operational costs as well as boosts revenue streams by switching to the cloud. Also, they can improve their services or introduce new services easily with the help of cloud's pay-per-use service model.
Additionally, cloud acceptance offers telecoms economies of scale, scalability, and cost-effectiveness, which they require to address the need to reduce costs.
Cyber Security
We are now living in a connected world where more and more data is being transmitted via wired or wireless connection and more transactions take place, so cybersecurity has become essential. Numerous reports indicate a sharp increase in cyber frauds such as data breaches, ransomware, DDoS attacks, etc.
As assets and users become more mobile, security in 2022 will go beyond the traditional approaches. It becomes important to integrate security structures that will safeguard the assets, regardless of their location by implementing a cybersecurity mesh architecture (CSMA). Businesses will need to continue to invest heavily in the security area in 2022.
Private 5G
In recent years, Private 5G has been the top telecom trend and will become mainstream next year. As consumers eagerly await the rollout of 5G, numerous telecommunications companies have already made significant investments in the necessary infrastructure with 5G.
With 5G ecosystems, users will take advantage of increased speed, reliability, and consistency. Because of this ultra low latency, it will transform the network experience of the users. In the year 2023, we will likely see embracing from organizations that require 5G capabilities to drive digital transformation, and IoT. Apart from supporting use cases such as IoT, automation, and enabling ultrafast and reliable connectivity, it will also help service providers to earn revenue by saving time and effort. 5G networks are expanding, and more importantly, many devices in the market now support 5G.
Containerization
The important telecom trend in 2023 will be Containerization. The technology empowers service providers with quick deployment and faster time-to-market by packaging an application's code and its dependencies in isolation as well as facilitating optimal performance. Due to its flexibility, scalability, portability, and lightweight foot, it is gaining popularity. Companies can process deployment-related tasks easily and effectively with the help of the significant features of containerization.
Because of it cloud-native infrastructure, containerized applications can run easily in any environment along with significantly reducing maintenance and development costs.
Digital Transformation is Here to Stay
We are living in a digital world where digital transformation is on a fact-track. In 2023, it will be accepted by more and more industries.
Recently, telecom companies have started investing heavily in 5G technology and infrastructure. This new generation of wireless networks will provide faster speeds and lower latency, enabling a new wave of digital applications and services. As a result, homes, and businesses will have access to incredibly fast internet speeds.
Wrapping Up
In the year 2023, we will observe various telecom trends that will help service providers to drive revenue and increase subscribers growth.
To summarize, being a service provider you must follow the below trends,
Cybersecurity
Cloud Acceptance
Private 5G
Containerization
Digital transformation
H8 solution will help you to achieve digital transformation success, deploy cloud, enhance security as well as automate your business processes.
Have any questions or want to have a demo of the H8 Solution? Write us a mail at h8ssrms@height8tech.com or call/WhatsApp us at +91-6358931775.
Follow us on Facebook, LinkedIn, Twitter, and YouTube to get updates on the latest technological advancements in the telecom sector.