The Metaverse has the power to impact all our lives in a numerous way and bring changes in how the industries work. All the industries will be completely transformed in no time. We may witness changes in the business operations. Apart from this, we will also witness the emergence of new technologies and inventions that will exploit the behavioral changes that the metaverse will enable.
Telcos play an important role in bringing Metaverse to life. The adoption of the Metaverse concept is growing rapidly, the telecom sector will act as a key enabler by providing the requisite network bandwidth and support structure to make it a reality. Network latency reduction, symmetrical bandwidth advancement, and overall network speed acceleration are requisites for establishing this concept.
Metaverse will power the telecom operators in enhancing the customer experience, monetize investment with the help of adjacent services and increase the operational efficiency. But more uniquely it will provide distinctive opportunities for telecom operators to play a key role in the metaverse value chain.
Opportunities for telecom operators in the Metaverse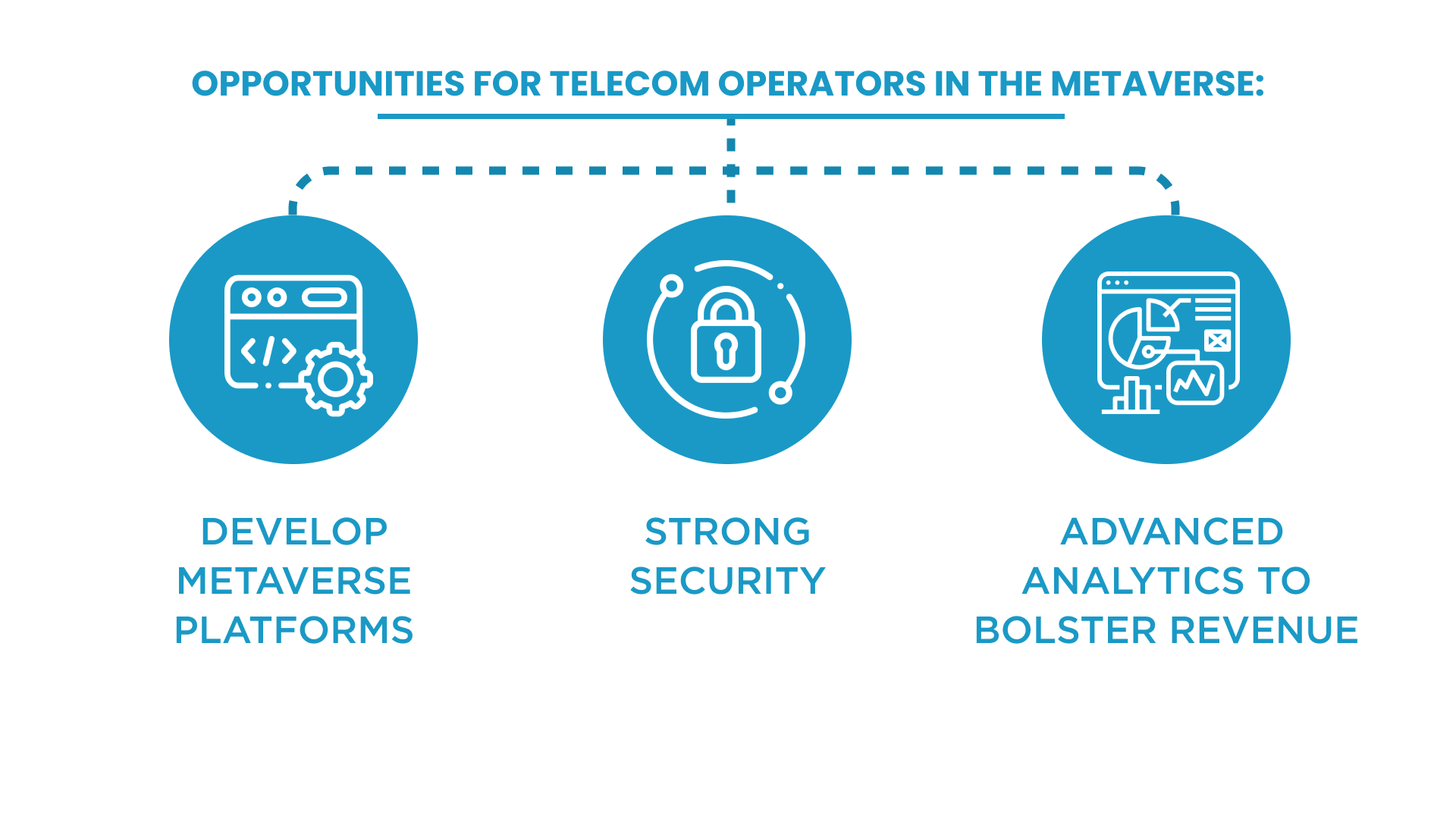 Develop Metaverse Platforms
Many companies are launching their own metaverse platforms. The success rate of this is expected to depend on drawing as many subscribers as possible. It is necessary to make users spend more time on metaverse platforms by creating interesting, themed experiences and events as well as by offering customized services for businesses and consumers.
Telos must invest in emerging metaverse platforms in order to take advantage of this gradual evolution. This will help them build a deeper understanding of the demand scenarios and technical competencies shaping the long-term opportunity.
Strong Security & Privacy
As we move into the Metaverse, the huge amount of critical business data will be processed. It is not easy to protect security and privacy at the same time when enterprises and telecom operators come together in new ways.
As the virtual world becomes more revolutionized, Identity authentication and management will become more important. Telcos should leverage their existing customer relationships to position themselves as identity management experts as the metaverse takes shape.
Advanced Analytics to Bolster Revenue
In the metaverse, telcos will have many advantages when it comes to taking any important business decision and creating new demand scenarios in which analytics will help.
A wealth of product, customer and asset data will reside with telecom operators within the metaverse, while their legacy retail and distribution capabilities will also provide a range of customer- and operations-related insights.
As a result, telecom operators should pay special attention to fostering the right analytics and AI capabilities and define potential monetization avenues to further bolster their revenues.
Wrapping Up
As businesses start to focus on the potential of digital and mixed reality experiences driven by technology, the metaverse is the future of immersive user and enterprise experiences.
Have any questions or want to know more about how your business gains benefits from Metaverse? Write us a mail at h8ssrms@height8tech.com or call/WhatsApp us at +91-6358931775.
Follow us on Facebook, LinkedIn, Twitter, and YouTube to get updates on the latest technological advancements in the telecom sector.