Over the past few years, the deployment of software-defined WAN technology is becoming the most important change to wide-area networking. SD-WAN changes how networking professionals optimize and secure WAN connectivity.
You must be wondering what SD-WAN is? What are its benefits? How does it work? This blog has answers to all your questions.
Let's get started!
What is SD-WAN?
A virtual WAN architecture is called Software-defined Wide Area Network (SD-WAN). To securely connect users to applications, SD-WAN allows organizations to leverage any combination of transport services including MPLS, LTE and broadband internet services.
Along with providing improved performance, reliability and scalability, it allows organizations to securely connect users, applications and data across multiple locations. By providing centralized control and visibility over the entire network, SD-WAN also simplifies the management of WANs.
Benefits of SD-WAN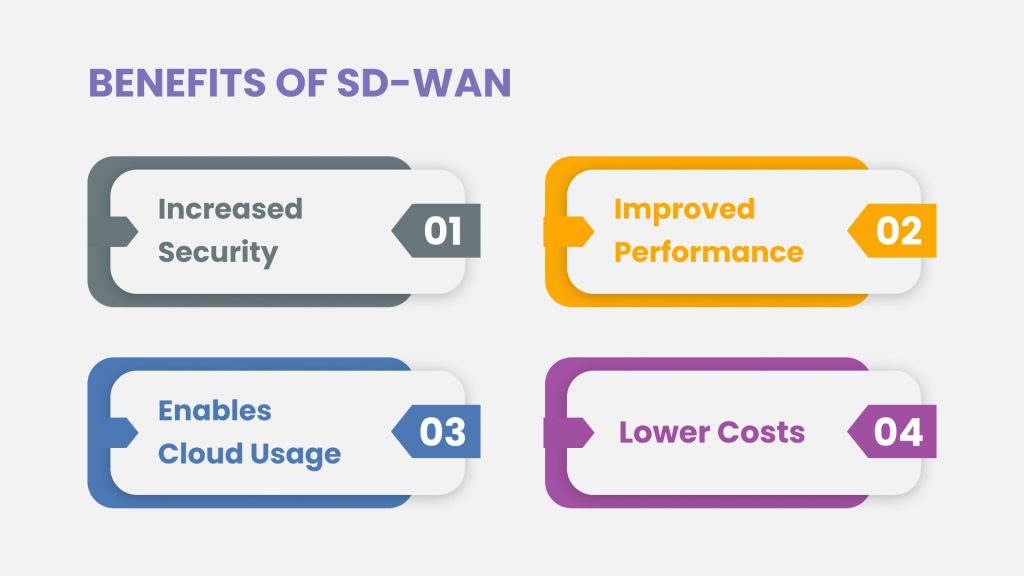 Increased Security
With SD-WAN, you can protect your network from external threats like DDoS attacks and malware. By allowing only authorized devices onto your network, you can also prevent internal threats like hacking or data theft. This means that if someone tries to get into your system from an unapproved location, they'll just be blocked out automatically.
Improved Performance
All network traffic is not created equal. Fortunately, to prioritize business-critical traffic and real-time Voice over Internet Protocol (VoIP) and then effectively steer it over the most efficient route, SD-WAN can be configured. IT teams can reduce loss and latency issues by facilitating critical applications through reliable, high-performance connections, thereby improving employee productivity, and boosting staff morale. This is performance with business impact.
Enables Cloud Usage
We are living in a world where organizations are increasingly adopting cloud services. Fortunately, we have SD-WAN that eliminates backhauling traffic by enabling direct cloud access at the remote branch – routing all cloud and branch office traffic through the data center. This means that workers can directly access cloud applications regardless of location without burdening the core network with additional traffic to manage and secure. Apart from this, SD-WAN also improves cloud application performance by prioritizing business-critical applications and enabling branches to directly communicate to the Internet.
Lower Costs
Based on the actual demand, network administrators can scale up or down their WAN connections. Network administrators can supplement or substitute expensive MPLS with broadband connectivity options. By eliminating the unused capacity at any given time, this also reduces the amount of capital expenditure. As it is easier to manage than traditional networks (since it requires less configuration), there are fewer ongoing costs associated with maintenance and support.
Summing Up
With SD-WAN enjoys the benefits including WAN simplification, lower costs, bandwidth efficiency and a seamless on-ramp to the cloud with significant performance without sacrificing security and data privacy. Better performance improves business productivity, customer satisfaction, and ultimately profitability. Consistent security reduces business risk.
Want to know more about how H8 ISP Software will help you? Contact us right now by writing us a mail at h8ssrms@height8tech.com or call/WhatsApp us at +91-6358931775.
Follow us on Facebook, LinkedIn, Twitter, and YouTube to get updates on the latest technological advancements in the telecom sector.