All the ISPs wanted to opt for some or the other OSS/BSS Software, but somewhere down the lane, customization requirements, and Integration of prevailing operations like authorization, billing management, inventory management, etc. delimit its usage.
To run a successful ISP Business, you need an integrated solution that covers various aspects of the business.
Let's proceed!
Key Components Of ISP Solution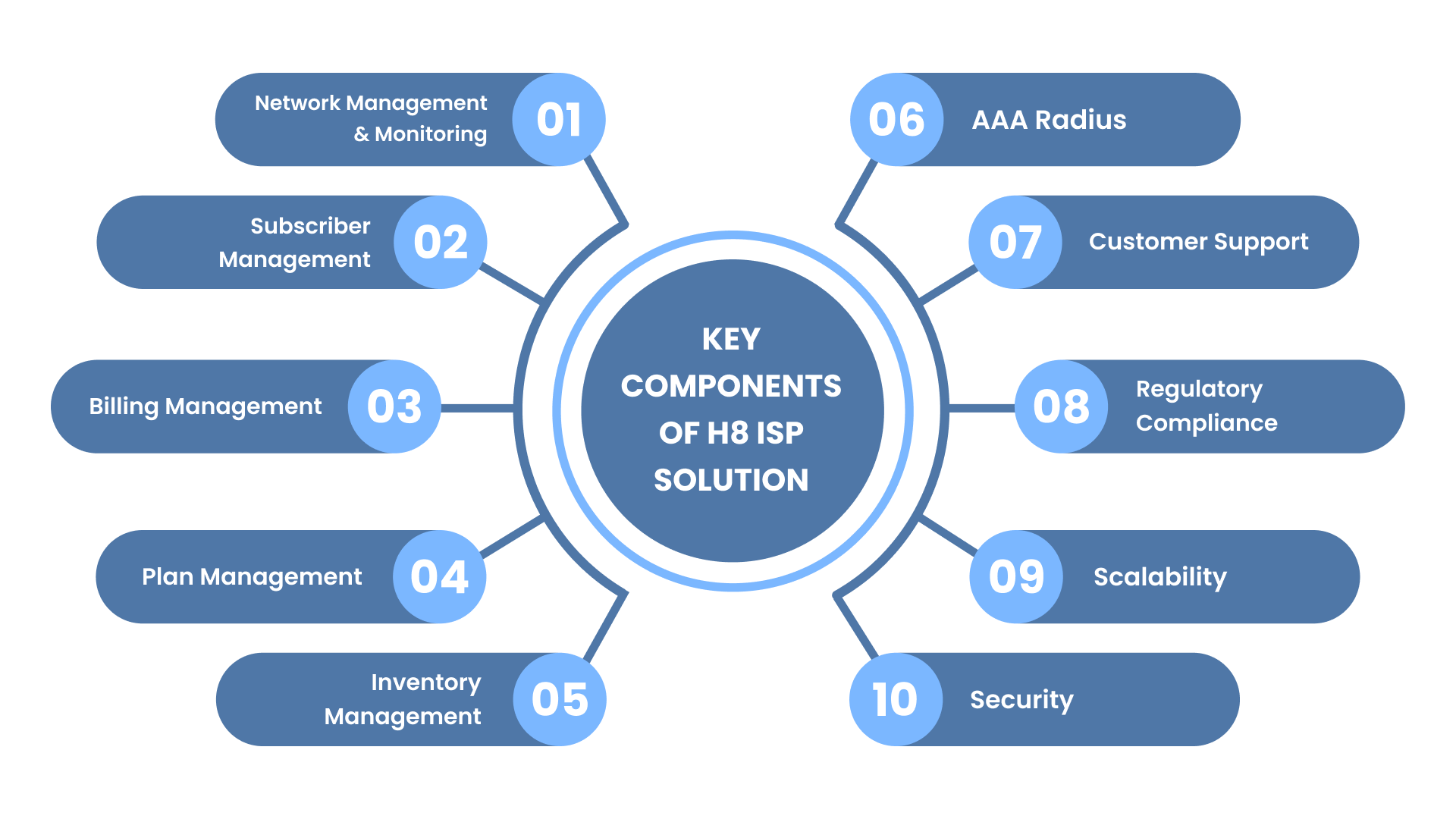 Network Management & Monitoring
Implement an efficient network management and monitoring system to monitor and manage the performance of your network. This involves proactive monitoring, rapid troubleshooting, and network optimization and remote management of your Customer CPE for faster resolution.
Customer Support
Offer top-notch customer support to address technical issues, inquiries, and complaints promptly. A responsive customer support team can significantly impact customer experience, satisfaction and retention.
Subscriber Management
Opt for the ISP Software that will manage your subscribers' life cycle from the point of first contact with your organization. Subscribers travel through multiple stages starting from lead to feasibility assessment to document verification and approval. The ISP Solution ensures the smooth on-boarding of subscribers to your network and manages the allocation of IP addresses, network equipment, and assignment of plans.
Billing Management
A streamlined billing system is essential for smooth operations. Make sure your billing processes are accurate, transparent, and user-friendly.
Plan Management
Create and deploy complex plans for your users with Fair Usage policies, Data Usage limits, Timing based plans, and RADIUS-derived vendor attributes.
Inventory Management
Inventory starts from the Procurement process to Deployment. It is tightly integrated with OSS, BSS, and CRM. Tangible or intangible inventory can be maintained in the system. The solution includes the order procurement and deployment process based on workflow and access rights.
AAA Radius
Authentication by PPPoE, Mac Auth, IPoE, Portal, and Leased-based is necessary for ISPs. The need for centralized authentication, authorization, and accounting has grown as the need for centralized identity management. It is imperative in the modern telecommunications landscape to have a robust AAA Radius that performs not only basic AAA functions but also more advanced functions.
Regulatory Compliance
Stay informed about local and national regulations related to ISPs. Comply with privacy laws, data protection standards, and other relevant regulations to avoid legal issues.
Scalability
Plan for future growth and scalability of your network. As your customer base expands, you should be able to easily upgrade your infrastructure to accommodate higher demand.
Security
Prioritize network security to protect your customers' data and prevent unauthorized access to your infrastructure. Invest in firewalls, intrusion detection systems, and other security measures.
Summing Up
Remember, the success of an ISP depends on providing reliable and high-quality internet services, excellent customer support, competitive pricing and most importantly having an integrated ISP Solution. Building a strong brand reputation will lead to customer loyalty and attract new subscribers through positive word-of-mouth.
H8 ISP Solution offers everything an ISP needs to be a successful ISP, it includes subscriber management, inventory management, plan management, billing management, network management, AAA radius, best-in-class support, security, and much more.
Want to know more about H8 ISP Solution? Contact us right now by writing us a mail at h8ssrms@height8tech.com or call/WhatsApp us at +91-6358931775.
Follow us on Facebook, LinkedIn, Twitter, and YouTube to get updates on the latest technological advancements in the telecom sector.