What is B2B (Business-to-Business)?
An exchange of products, services or information between businesses instead of between businesses and consumers is known as B2B (business-to-business).
ISPs/CSPs/Telcos also face B2B experience issues when it comes to resellers/franchisees. It is very necessary for them to fill this gap. Are you an ISP/CSP/telco? And you want to know how to fill the B2B experience gap? If yes, then this blog is for you.
Let's proceed!
Why Is it Necessary to Fill the B2B Experience Gap?
Almost 75% of CSPs believe that their future revenue growth will come from the B2B sector, as per the TM Forum research. Because of this, CSPs have been speedily rolling out exciting new B2B2X business models, exploring the potential of IoT and drones, launching Connected Customer Assurance and Protection products and even creating new units to capture the emerging opportunity.
How To Close the B2B Experience Gap?
Meeting the needs of SMEs
For the ISPs who preferred to partner with resellers, dealing with millions of small businesses didn't appeal. However, ISPs have changed their opinion on this issue simply because they can't afford to hand over so much margin to resellers and because they perceive this market to have huge growth potential. But this market requires a very different approach (and different package choices) to the more complex enterprise market. SMEs have fewer internal resources, so they typically want a solution that includes higher levels of support.
There is a huge opportunity for ISPs to increase their customer experience game in the SME market. For instance, Vodafone Business is already on the case. In 2021, it launched "business boosting packages" – bundles of tools to help SMEs create or improve their online presence, reach new customers and overcome impediments to growth.
Addressing the new Micro Business opportunity
Regardless of being small, micro businesses could offer the greatest opportunities of all. These small 1-9 person businesses are the most similar to B2C in terms of expectations and the way they need to be supported. This is a particularly exciting area for ISPs currently, because of the explosive growth in the sector fueled by people being laid off during the pandemic, looking for new income streams as costs soar, or participating in the great recession. The ability to set up a micro business has also been boosted by the widespread availability of key enablers such as high-speed broadband, greater digital fluency, and a more mature e-commerce market. Most of these businesses are born digital and expect to be supported digitally.
How Height8 Will Help?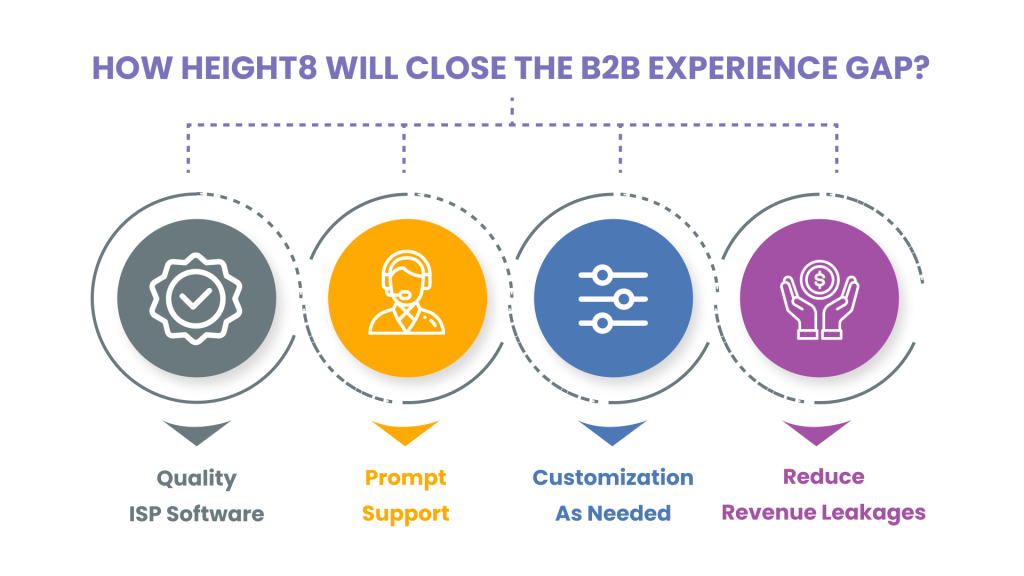 Height8 will bridge the B2B experience gap by providing quality ISP Software, prompt support, customize software according to the preferences, as well as it will help in reducing revenue leakages.
Want to know how you will win your reseller's trust by filling the B2B experience gap? Contact us right now by writing us a mail at h8ssrms@height8tech.com or call/WhatsApp us at +91-6358931775.
Follow us on Facebook, LinkedIn, Twitter, and YouTube to get updates on the latest technological advancements in the telecom sector.