'Streamline Your ISP Business Operations With H8 Mobile App'
Mobile apps have now become an integral part of managing businesses in today's digital age. Internet service providers (ISPs) constantly strive to efficiently handle their operations and provide seamless services to their customers. Looking at this, we at Height8 introduced the H8 Mobile App. It is designed specifically for ISPs and offers a wide range of features that empower them to manage their business operations effectively, all from the convenience of their mobile devices.
Let's dig in!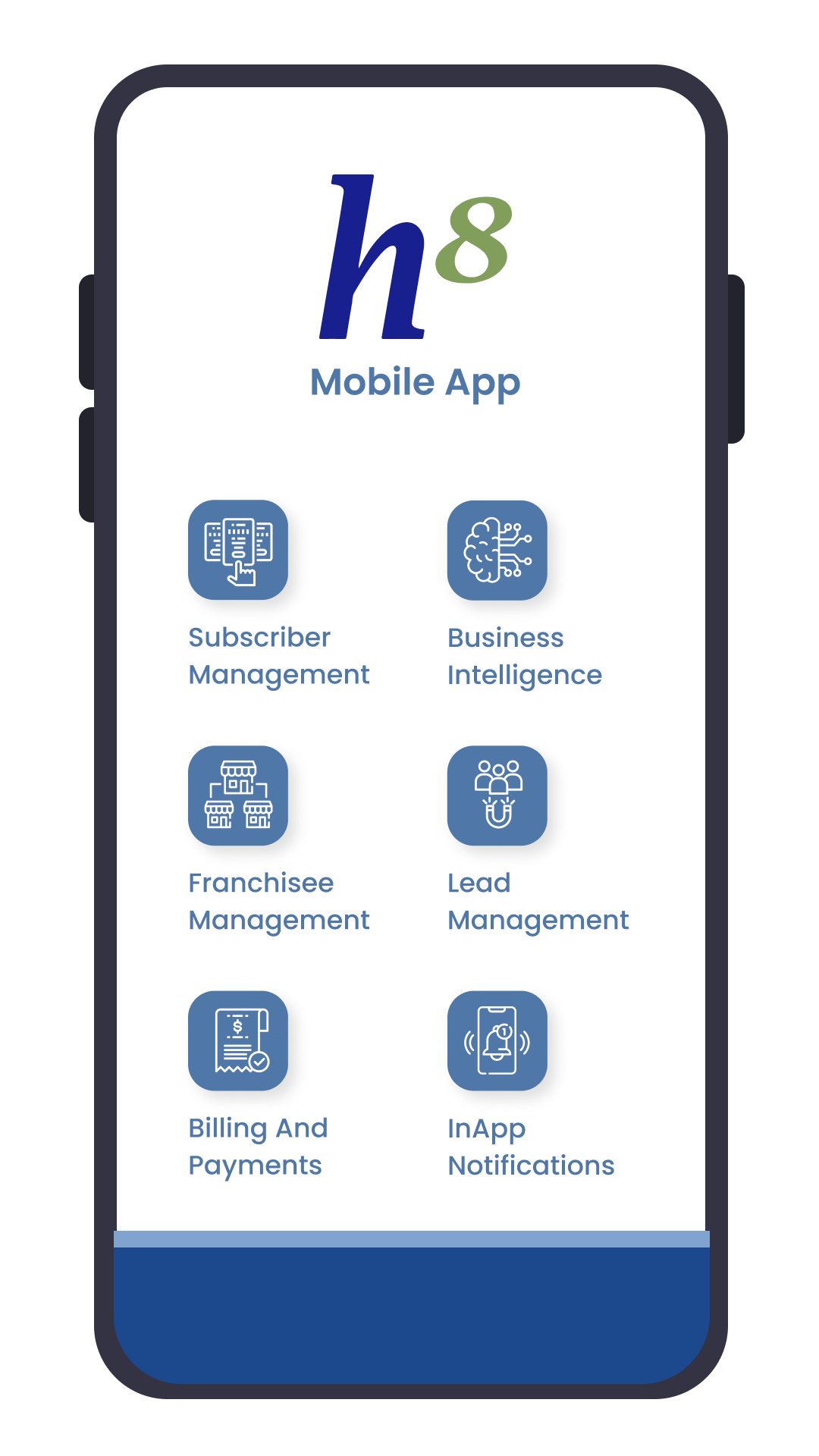 Features of the H8 Mobile App
H8 Mobile App acts as a comprehensive platform, bringing together all the essential features required to streamline ISP business operations. With a user-friendly interface, ISPs can easily navigate through the app and access key features, including:
Subscriber Management
ISPs can effortlessly manage customer accounts, track subscriptions, manage customers' eKYC documents and much more, ensuring a smooth customer experience. The app provides a 360-degree view of customer interactions, empowering providers to deliver prompt support and resolve issues quickly.
Business Intelligence
H8 Mobile App comes with a unique Business Intelligence (BI) tool. H8 BI stores all the information about the reports, report generation, employee reports, subscribers' usage base details, session details, plan-wise purchases, payment type details, complaint reports, and much more.
Franchisee Management
Manage your franchisees' accounts from your mobile device. H8 Mobile app comes with all the necessary tools to efficiently manage and support your franchisees including an integrated dashboard view of all franchisees, allow franchisee-wise access rights, online payment top-up, separate reseller & LCO web portal, and much more.
Lead Management
You can now manage your leads from H8 Mobile App. Lead Manager is used as a central tool to capture and distribute new inquiries to the sales team. You can check the status of the leads, automatically allocate the leads to departments or individuals, track lead progress, search leads, and much more with the convenience at your fingertips.
In-App Notifications
Enrich user experience with In-App Notifications. You can create personalized notifications, send alerts and reminder notifications, enjoy ready-to-use templates, automated notifications, check analysis and insights, and much more from your mobile device. Be the first message customers see when they pick up their phone with H8 Mobile App.
Billing and Payments
Managing billing and payments can be a time-consuming task for ISPs. H8 Mobile App simplifies this process by automating invoicing, generating accurate bills, and tracking payment histories. ISPs can send payment reminders and receive payments through secure online channels, reducing administrative overhead and enhancing financial efficiency.
Benefits for ISPs and Customers
The H8 Mobile App offers numerous benefits for ISPs and their customers:
Enhanced Efficiency
By consolidating essential business operations with the convenience of mobile devices, H8 mobile app saves time and effort for ISPs as they can perform tasks on the go.
Improved Customer Experience
With real-time updates, quick issue resolutions, and transparent communication, ISPs can provide an excellent customer experience. H8 Mobile app empowers providers to deliver prompt support, address customer concerns, and build long-term relationships.
Increased Revenue Generation
Efficient billing and payment management ensure timely collections by minimizing revenue leakage. Additionally, the app allows ISPs to offer value-added services, such as OTT, VoIP, etc, enabling them to attract and retain customers.
Scalability and Adaptability
As the ISP industry evolves, H8 Mobile App can accommodate new features and functionalities to meet changing requirements. It provides a scalable solution that grows with the business, allowing ISPs to adapt to emerging technologies and industry trends.
Conclusion
With H8 Mobile App at your fingertips, ISPs can efficiently manage their business, ensure uninterrupted service, and drive growth in a rapidly evolving industry. H8 Mobile App is available on Android as well as iOS.
Want to know more about H8 Mobile App? Contact us right now by writing us a mail at h8ssrms@height8tech.com or call/WhatsApp us at +91-6358931775.
Follow us on Facebook, LinkedIn, Twitter, and YouTube to get updates on the latest technological advancements in the telecom sector.