The demand for cloud WiFi is increasing day by day, making it the fastest growing segment of the wifi market infrastructure. In the US, WLAN is already a fairly mature market. Also, most regions around the world are expected to increase their investment in wireless technology.
A standardized Cloud WiFi will allow operators to support their existing WiFi capabilities as well as launch new services seamlessly. It can even respond to the requirements of internet service providers (ISPs) and enterprises to deliver innovative and cost-effective services through the cloud thus allowing them to automate processes to capitalize on their market opportunity and launch differentiated services in no time.
You must be wondering what is Cloud WiFi? What are the benefits of Cloud WiFi? Why choose Cloud WiFi? No worries! This blog has the answer to all your questions.
Let's proceed!
What Cloud WiFi Is?
Cloud Wi-Fi solutions allow service providers to manage their entire network from the cloud. It ensures quick scalability. Through location-based and context-aware applications, Cloud WiFi offers users a seamless experience while reducing CapEx and OpEX with a pay-as-you-grow model.
Why Choose H8 Cloud WiFi?
Reasons to choose H8 Cloud WiFi are:
Centralized Network Visibility
H8 Cloud Wi-Fi solution offers a 360-degree view of the WiFi environment through a single dashboard. It enables visibility of the entire cloud-based WiFi solution across multiple locations and geographies. The dashboard facilitates the administration of set policies for content filtering, access, application, and bandwidth usage, with the feature to apply them by site, user groups, or individuals.
Ease of Deployment & Deployment Scenarios
H8 Cloud WiF is highly beneficial for its ease of configuration and management. It is seamless to deploy hundreds of access points in just a couple of days.
WISPs, ISPs, CSPs, and even SMEs can enable Cloud Wi-Fi for varied implementations like universities, airports, hotels, cafes/Restaurants, Exhibitions/Expos, Residential/Commercial Buildings, and Public Places.
Multi-Site Updates
With H8 Cloud WiFi access points receive the updates regularly. Re-boots can be scheduled according to the needs of your organization.
Network Element Vendor Friendly
Our H8 Cloud WiFi solution is vendor friendly. It allows you to integrate with multiple network element vendors to allow interactivity under a single management console. You can integrate with Cisco WLC (Wireless LAN Controller), WAG (WiFi Access Gateway), Ruckus Zonedirector, Ruckus Zoneflex, and many more.
Paid and Free WiFi
With the H8 Cloud WiFi solution, you can offer both paid as well as free wifi. You can offer paid wifi by allowing login through coupon-based, online purchase, AD SSO login, etc. You can even monetize your free wifi through branding images, video advertisements, and many other methods.
User-Friendly Captive Portals
We are using the latest technology in our H8 Cloud WiFi that ensures a user-friendly solution. Our WiFi captive portal framework supports all the complex user journey flows required for first-class WiFi service. It can be accessed through various devices whether it's a laptop, mobile, or tablet which makes our solution much more responsive than others.
Benefits of Cloud WiFi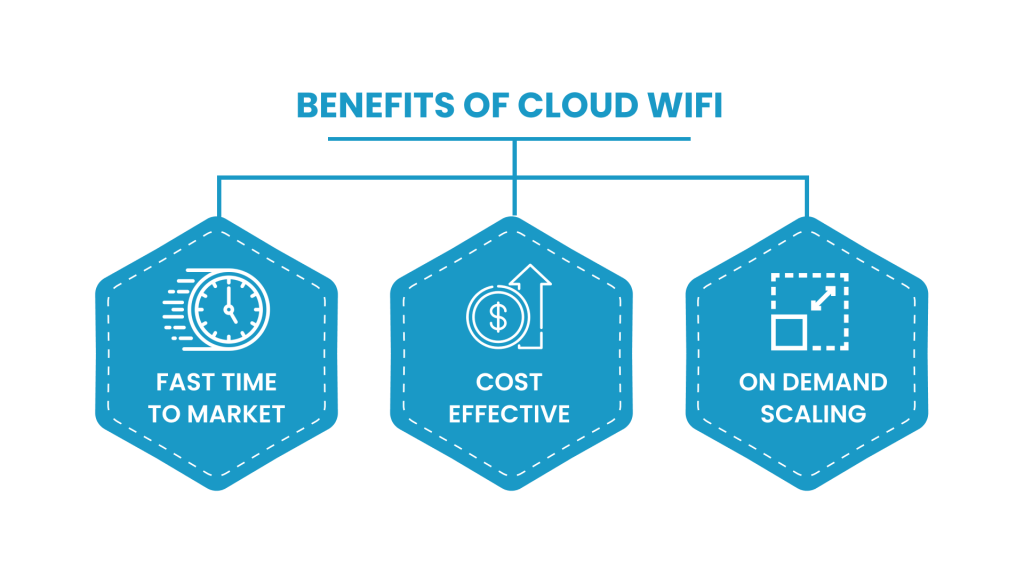 Cost Savings
ISPs can reduce CapEx and OpEx by delivering network services over the cloud. It even reduces the resource with cloud-based WiFi deployments. This saves a lot of your cost as well as further increases customer satisfaction and lowers churn in the long run.
Quick Time to Market
We are living in a fast-paced business environment that requires processes and procedures to be conducted in a rapid yet simple fashion. The Cloud WiFi allows easy integration and migration, quick performance, better operational efficiency, and increases agility with reduced implementation as well as reduced setup time that eliminates hassles and headaches while accelerating the ROI.
On-Demand Scaling
Cloud WiFi ensures the scale to support the increasing subscriber base of the operator and the flexibility to manage service preparation assuring real-time availability of services. Small to large operators can launch and modify their services quickly using a cloud platform, allowing operators to use standards-based technologies and prepare for future expansion while capturing ever-growing customer market share.
Summing Up
H8 Cloud WiFi has been receiving an exceptionally great response since its launch. With implementations on the go, enabling WiFi has never been easy.
Have any questions or want to have a free demo of the H8 Cloud WiFi? Write us a mail at h8ssrms@height8tech.com or call us at +91-6358931775.
Follow us on Facebook, LinkedIn, Twitter, and YouTube to get updates on the latest technological advancements in the telecom sector.