There are numerous benefits of migrating your telecom business to the cloud. But it comes with lots more challenges. It is really not at all easy to build a successful cloud migration strategy and take care of all the bases. The use of cloud technology has increased over the last few years and is growing rapidly and it's no surprise why.
Increased efficiency, low operating costs, new revenue opportunities, high scalability, lower time to market, better support, high scalability, etc are the benefits of Cloud service because of which ISPs and other telecom operators are moving to cloud technology. But, they are facing various challenges while migrating to the cloud. You must be wondering what the challenges will be and how to tackle them.
No worries! This blog is all about the cloud migration challenges and the ways to tackle them.
So, let's dig in!
Cloud Migration Challenges
Lack of Proper Cloud Migration Strategy
Many businesses make a move to the cloud without a proper cloud migration strategy. Because of this, they won't be able to fully enjoy the benefits of cloud technology. Be careful when considering cloud migration. If you are not sure about how and where to start with cloud migration, talk with your vendor. Work with your vendor on a plan that better suits your business needs.
Don't rush the process of cloud migration. Take your time and think about your needs and choose the approach that better fits them.
Common Cloud Migration Strategies
Rehosting (Lift and Shift)
For low-impact workloads, this strategy is useful. This is quick and less disruptive than other strategies. But this may not be suitable for all the approaches. It has its limitations like you will miss the cloud benefits.
Replatforming (Move and Improve)
This strategy is considered a middle ground from rehosting to refactoring. This is similar to lift and shift but comes with upgrades when it comes to the different applications and processes.
Cloud to cloud
This approach is all about migrating from one cloud to another as the name itself suggests, which is more suitable for changing business needs
Risk Of Data Security
There is a common belief that the saving and processing of data on the cloud is not secure. But it is not true as public clouds of major players such as Amazon and Azure provide a higher level of security.
The mistrust toward cloud migration has more to do with technology and application-specific concerns. In the migration process, if the data is exposed to a cyber-attack, it may lead to serious disruption. Poorly designed applications are the reasons that increase the risk of data security.
Cost of Cloud Migration Process
Truly, migrating to the cloud can reduce costs through streamlined processes, increased productivity, and reduced operations costs. However, achieving this can still feel like an expensive and complex process.
If your company fails to properly analyze the potential financial impact beforehand then moving to the cloud can be costly. If the cost of moving to the cloud, long-term monetary risks that result from slow adoption, and the necessary training needed after the cloud migration are not addressed then such a budget can be a hindrance to achieving a successful move to the cloud.
How To Tackle The Cloud Migration Challenges?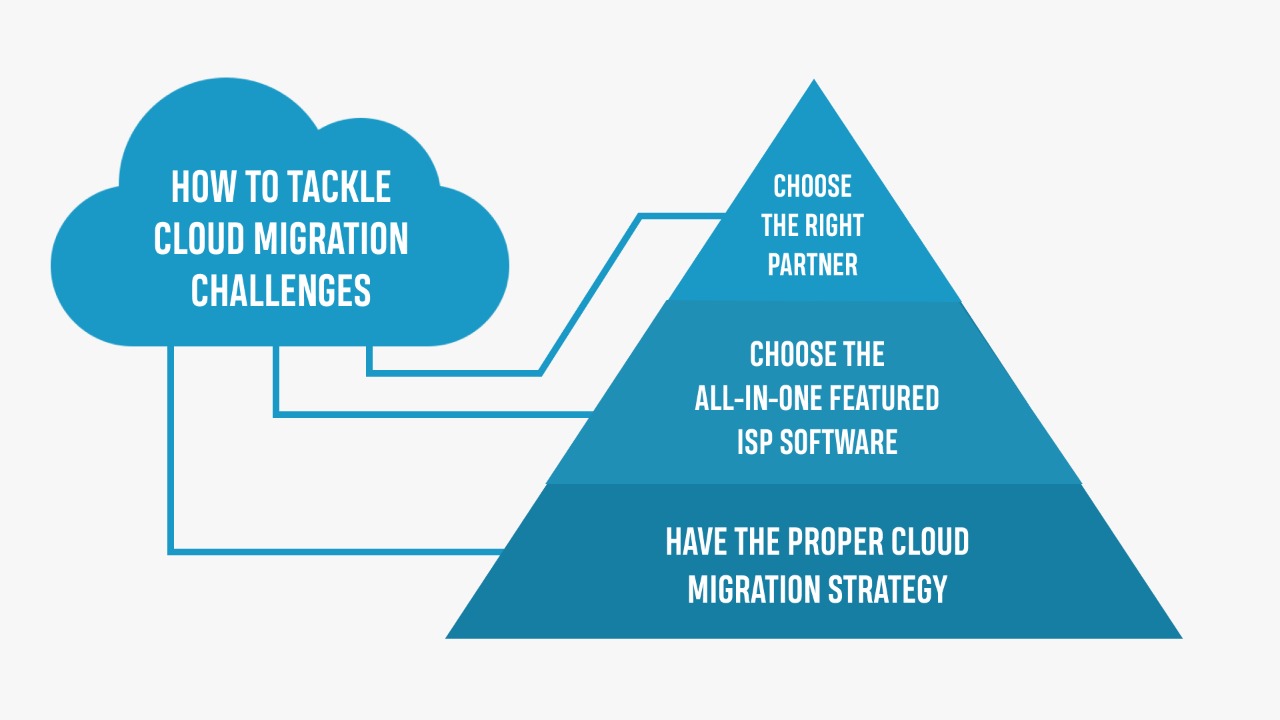 Choose The Right Partner
One of the most effective ways to overcome the cloud migration challenges is to have the right cloud partner. Find the partner you can trust and let them assess your existing systems, and then understand where these services stand in terms of application.
Carefully create and consider a proper cloud migration strategy and work together on the migration step by step.
If you're interested in moving your telecom business to the cloud, you can contact us for the Free Demo. H8 Cloud Software is globally chosen by telecommunications Service Providers, Internet Service Providers (ISPs), and others, including the biggest telcos serving millions of subscribers in a day.
Choose All-in-Featured Cloud Software
The best way to avoid huge expenditures when it comes to cloud migration is to consider choosing the All-in-One featured cloud software. This will help you to reduce the expenses on direct costs (software licenses, hardware, materials, supplies, maintenance contracts, etc.), operational costs (labor, maintenance), administrative costs (training staff, maintaining the team), and any other costs involved in managing systems.
This will even reduce your revenue leakages and open up new revenue opportunities for you. H8 Cloud Software is all-in-one featured software that is highly scalable, robust & cost-effective.
Have The Proper Cloud Migration Strategy
The best way to decide on a proper cloud migration strategy is to analyze your business needs, assess different use cases, and create a cloud migration plan. To make such a plan, you will need to have a sound pre-migration assessment, which can help you audit existing systems' data and analyze the need for scalability, obsolete components, and compatibility.
Conclusion
To ensure to have the smooth Cloud Migration Process, ask your cloud service provider the following questions:
Where will they store data?
Does their data have end-to-end encryption?
What process do they use to migrate data from the cloud?
Are there security policies and procedures in place?
Are they compliant with various security regulations (HIPAA, ISO 9001, ISO 27001, PCI-DSS, etc.)?
Are you ready to begin your cloud migration process? Contact us and we will help you build, re-platform, migrate and integrate your legacy systems on the cloud.
Have any questions or want to have a free demo of the H8 Cloud Software? Write us a mail at h8ssrms@height8tech.com or call us at +91-6358931775.
Follow us on Facebook, LinkedIn, Twitter, and YouTube to get updates on the latest technological advancements in the telecom sector.