Emerging cloud services have allowed customers to take advantage of the current scenarios and market demands. Over the past decades, Telcos have been under constant pressure as their conventional value pools have degraded along with increasing competition and growing customer demand for new services and fresh development horizons have proven elusive which increases the cost.
Telecom operators have to revolutionize their businesses to thrive despite these economic and competitive challenges. A modern Cloud BSS allows them to easily reinvent their core offerings. Deploying telecom BSS in the cloud significantly helps lower costs and boosts revenue.
It is easy to streamline the end-to-end process with the help of Cloud BSS. It even helps in managing product offerings for sales and marketing activities. It even introduces technological changes that enable endless scalability, network availability, as well as security.
Cloud BSS digitizes the customer experience with 24x7x365 support service by implementing automation with the help of Automated chatbots. You must be wondering how Cloud BSS will help you in cost saving? This blog has an answer to your question.
Let's dig in!
How Cloud BSS Helps in Cost-Saving?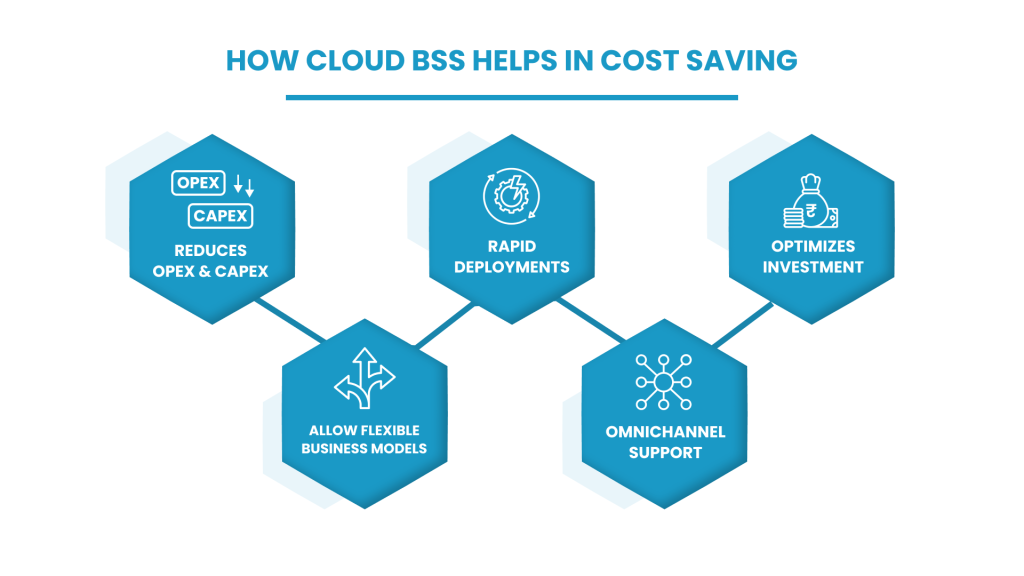 Reduces OPEX & CAPEX
Cloud BSS reduces the CAPEX and OPEX expenses of telecom operators to a great extent. It entertains ISPs and CSPs with a pay-as-you-grow model along with supporting their business systems. There is no need for telecom operators to buy hardware supporting 10M+ users on day one. According to the requirement, telecom operators can expand or shrink the usage of hardware.
Allow Flexible Business Models
The Cloud BSS allows you to have flexible business models to help in scaling your business with relatively lower investments that allow operators to introduce new capabilities and modules without making any expensive changes to their core systems.
Rapid Deployments
H8 Cloud BSS is a modern digital modular, and virtual in deployment. For telecom operators who don't want to go through a complete digital transformation, Cloud BSS is important. With the help of Cloud BSS, it is possible to implement in phases reducing the risk of migration as well as it requires fewer resources to start. End of Life is also less common, and the hardware is considerably easier to control.
Omnichannel Support
To entail a better user interface on multiple platforms it is necessary to improve the customer experience. Telecom operators can offer a smooth, uniform, and highly personalized self-care experience through the web and mobile that ensures quick problem resolution while making customers feel more connected and valued.
H8 Cloud BSS is fully powered and capable and has the potential to be rolled out in phases, can mitigate the risks involved in migration, and increase overall efficiency and performance across the business while minimizing cost and time.
Optimizes Investment
With Cloud BSS, telecom operators can opt and pay for only the licenses and infrastructure they need with the help of a pay-as-you-go deployment model instead of buying a large upfront capacity to plan for future growth. It will maximize their investments and swiftly derive ROI.
Conclusion
It is clear from the above points that Cloud BSS helps telecom operators in saving costs. H8 Cloud BSS helps you in cost saving along with staying ahead of your competitors.
Have any questions or want to know more about Cloud BSS? Write us a mail at h8ssrms@height8tech.com or call/WhatsApp us at +91-6358931775.
Follow us on Facebook, LinkedIn, Twitter, and YouTube to get updates on the latest technological advancements in the telecom sector.