The move of Business Support Systems (BSS) to the Cloud model is taking place rapidly across the world. Growing digital devices, mobile applications, and dynamic customer choices are forcing Internet Service Providers (ISPs) to adopt agile technologies and provide ease of adoption which in today's circumstance is possible by utilizing BSS on cloud models.
Managing business aspects, securing revenue, and supporting various business operations such as marketing, product offering, service delivery, etc are the primary drivers in BSS adoption on a cloud.
BSS on the cloud will open up various opportunities for the ISPs, especially in terms of revenue streams. Cloud services are adopting rapidly as they provide the advantage of the pay-as-you-grow model.
But the question here is: What is BSS on Cloud? How will it help your ISP business to grow? How will it help you to boost your revenue? Too many questions wandering in your mind? No worries! We are here to help you to answer your questions.
Let's proceed!
What is Cloud BSS?
Cloud BSS is the evolved BSS applications architecture that leverages all the benefits of the cloud infrastructure, such as deployment automation, automatic scalability, resources usage efficiency, and built-in high availability.
H8 Cloud BSS utilizes modern, cloud-native technology to help ISPs evolve to a partner-based digital economy. It provides future-proof functional capabilities that enable ISPs to become more innovative and disruptive, facilitating access into new markets and guaranteeing carrier-grade quality and compliance with strict security and privacy requirements that will boost your revenue streams.
Are ISPs Ready for the Cloud BSS Journey?
Moving to BSS on Cloud will ensure revenues by selling it as a service, with optimizing costs and profit margins. Transforming the BSS structure will enable ISPs to embrace an agile, and intelligent infrastructure to serve as the company's backbone. The method to achieve it is to adopt the cloud that offers speed and reduces costs. As an example, a smart BSS can integrate different services and charges into a single customer invoice, thereby simplifying the billing experience for the customer.
BSS gives ISPs innovation, agility and information, and insights that decision-makers can use to run the ISP business more effectively as they are important enablers of business transformation, maximizing business value while aligning business with IT.
Benefits Of BSS on Cloud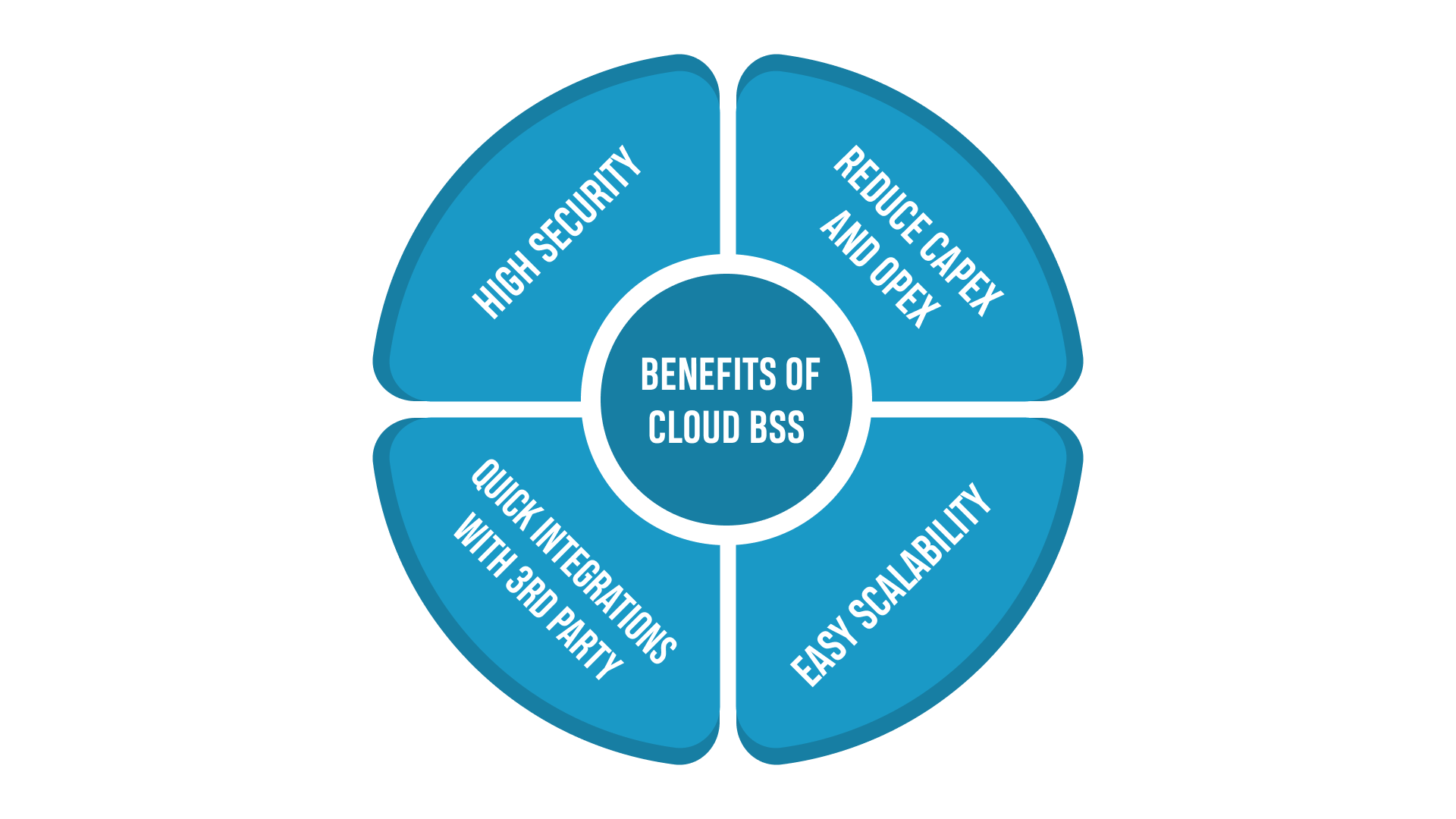 High Security
Today's advanced threats demand Intelligent And high-Security Solutions. This demand can be fulfilled with the help of cloud bss technology. Protecting your data is an important part of business continuity planning. Whether you experience a natural disaster, power failure, or other crisis, having your data stored in the cloud ensures it is backed up and protected in a secure and safe location. Being able to access your data again quickly allows you to conduct business as usual, minimizing any downtime and loss of productivity.
Reduce CAPEX and OPEX
Cloud BSS reduces the CAPEX and OPEX expenses of internet service providers (ISPs) to a great extent. Cloud BSS allows ISPs to pay-as-you-grow along with supporting the business systems. There is no need to buy hardware supporting 10M+ users on day one. You can expand or shrink the hardware according to your suitability.
Quick Integrations with 3rd Party
Fuelled by 5G, more and more telcos are exploring new revenue streams in this digital world. ISPs are just scratching the surface of all the new potential revenue streams, markets, and customers. Especially the ones dependent on their older integration capabilities.
For them, every new integration is like customization. So, every change they want to try out takes a lot of time and effort. It can take them months just to add something. Cloud BSS can integrate with 3rd parties in a matter of days. The possibilities are endless when you can launch a new service in a few days without much of a financial burden.
Easy Scalability
By implementing a cloud BSS ISPs can scale their capacity up during the busy days and scale down once things get back to normal. This can be an advantage for the less fortunate telcos as well. The ones that are unfortunately faced with a customer drop. This way, they can reduce their operational cost to positively alter their revenue.
Wrapping Up
It's important that telcos make that ultimate decision on switching to cloud BSS as we move closer to a cloud-based world. That is the only way to stay ahead in this competitive digital age. We at Height8 will help you to 'Reach For The Stars' by utilizing cloud technology.
Have any questions or want to have a free demo of the H8 Cloud BSS? Contact us right now! Write us a mail at h8ssrms@height8tech.com or call us on +91-6358931775
Follow us on Facebook, LinkedIn, Twitter, and YouTube to get updates on the latest technological advancements in the telecom sector.