The human behavior of buying more services at a lower cost is a never-ending process. Bundling services are one such type. It helps ISPs to retain their users. Bundling of services is good for your business growth. You will find a bouquet of product offerings in almost all the industries. Insurance companies offer bundling rates, Internet Service Providers (ISPs) offer bundling services, and Restaurants offer food and drinks bundling to grow their business.
By bundling low-profit services with high-profit services, ISPs can even increase their average revenue per user (ARPU). But, what is Bundling of services? How will it promote your ISP business's growth? This blog includes all the whats, whys, and hows regarding the Bundling of services.
Let's proceed!
What Are Bundling of Services?
Bundling of Services includes the group of two or more services when combined to offer together to your customers. It is a common practice for the ISPs where they bundle Internet, Voice Calling, and IPTV commonly termed 'Triple Play Services'. There are various services available to bundle with like OTT, Value Added Services (VAS), etc.
The bundling of services enables ISPs to occupy a unique value proposition. By pricing a bundle offering multiple services below your highest-tiered service, it becomes instantly more attractive to consumers when compared to having just a single service. This encourages customers to subscribe to a bundle, even if the cost is more than they anticipated paying. Click here to know more.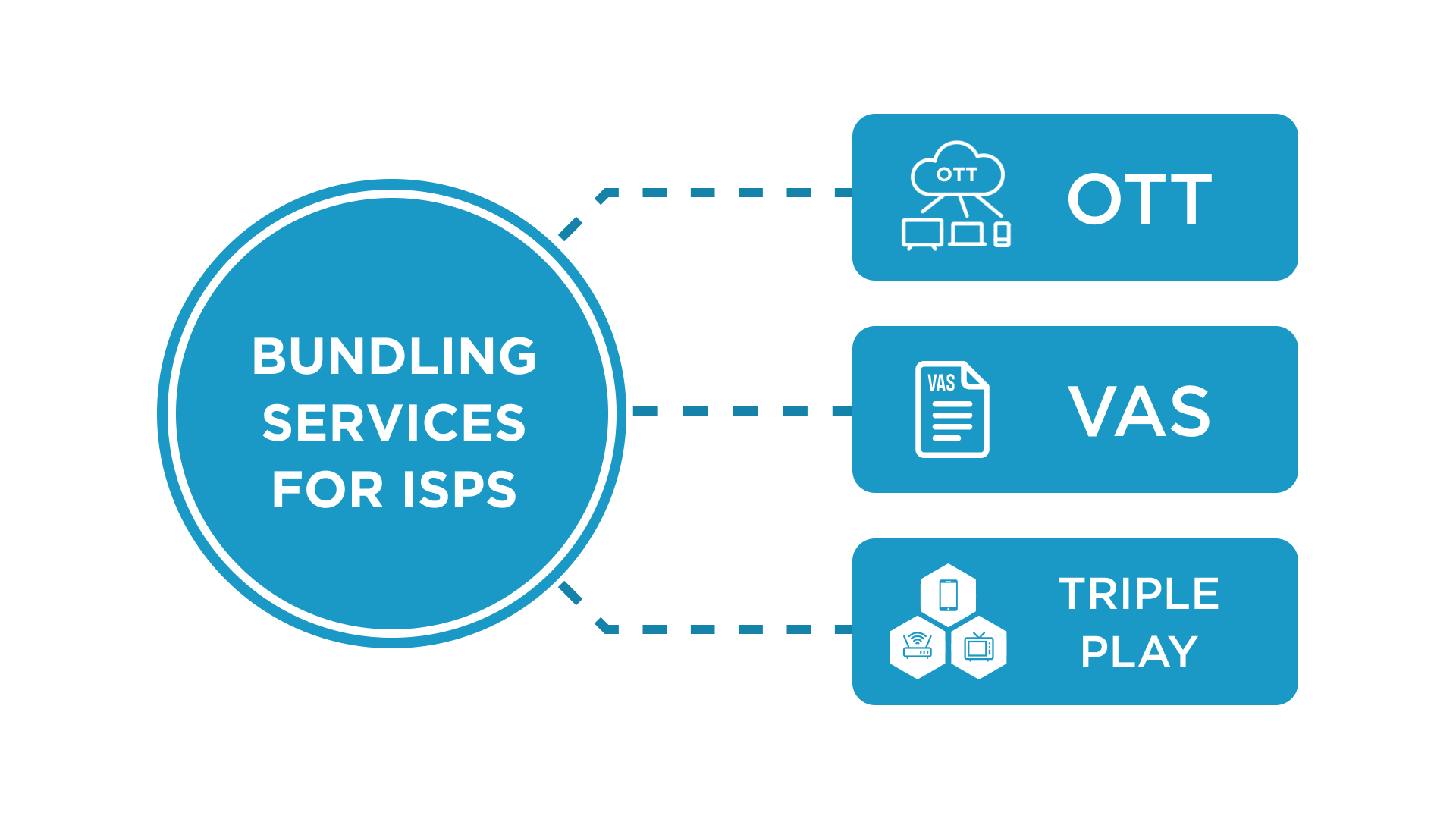 Bundling of ISP Service Offerings with OTT and VAS Services
OTT and VAS services have changed the game of the industry. With the popularity of OTT (Over-the-Top) streaming services like Netflix, Zee5, Hotstar, Amazon Prime, etc. increasing day by day, people are beginning to realize the importance of bundled services. The majority of people now have access to or have subscriptions to more than one OTT media service platform.
For instance, Reliance Jio has collaborated with ZEE5 which has a vast library of more than 4500 movies and more than 250 original TV shows. With this partnership, JioFibre will again be rising to be one of the most successful telecom networks since ZEE5 is one of the most popular OTT platforms.
Similarly, Vodafone-Idea (VI) also offers plans that include subscription to Netflix, Amazon Prime Video, Disney + Hotstar, and Vi Movies & TV. With their plans you will also get access to domestic and international airport lounges four times a year at no extra cost.
This increases the customer base of Reliance Jio and VI as well as retains their existing customer base. Being an ISP, you should also consider bundling with the OTT services to grow your ISP Business.
Bundling Of Internet, Voice, and TV
It is the most common and most effective bundling service offered by various ISPs commonly termed as 'Triple Play Service'. Voice, video, and data all are provided in a single access subscription in the Triple play service. The most common applications are high-speed Broadband, IPTV, and VOIP. All these services are provided through the transmission mediums fibre, conventional copper, or satellite.
Customer relationship management (CRM) plays a key role in the success of the triple-play service. Home users who subscribe to triple-play services enjoy the fact that they have to pay only one bill each month and can deal with a single entity to resolve problems with their telephone, TV & Internet connections. Click here to learn more about the Triple Play Service.
How do Bundling Services Promote Growth and Increase ARPU?
Bundling of Services helps ISPs to retain their existing customer base as well as acquire new customers. They can even increase their average revenue per user (ARPU) by bundling low-profits services with high-profit services.
Being an ISP, you must be thinking about how to manage the bundle services as well as your customers? H8 ISP Solution is the answer to your question. Enjoy full control over your services, your packages, and your contracts with H8 ISP Software. You can easily add new users to an existing service, create different plans with different offers and expiry dates, and much more.
Summing Up
Fast-track your ISP Business growth and increase your ARPU today by taking the advantage of Bundling Services. H8 ISP Solution will help you to streamline your business operations and manage your ISP business efficiently.
With H8 ISP Solution, you can integrate with various OTT platforms like Hotstar, Zee5, Voot, Alt Balaji, Netflix, and even aggregators of these OTTs so you don't have to deal with them individually. You can even bundle with other services like VoIP, IPTV, and VAS.
Have any questions or want to have a free demo of the H8 ISP Software? Write us a mail at h8ssrms@height8tech.com or call us at +91-6358931775.
Follow us on Facebook, LinkedIn, Twitter, and YouTube to get updates on the latest technological advancements in the telecom sector.