BSS on Cloud technology is taking place rapidly across Telcos. An increase in mobile and digital devices, and frequently changing customer demand are forcing Internet Service Providers (ISPs) to adopt agile technologies and provide ease of adoption which is possible by utilizing BSS on cloud models.
The growth driver for BSS on cloud adoption is managing business aspects, securing revenue, and supporting varied business functions like marketing, product offerings, sales, contracting, and service delivery.
ISPs adopting cloud BSS can quickly reinvent their core business and create more contemporary offerings and enhance customer experience. The market for cloud BSS has grown to USD 13.4 billion in 2020, and they are poised to reach a size of USD 30 billion by 2026.
How will BSS on cloud boost revenue opportunities? How ISPs or telcos benefit from BSS on cloud? This blog has the answer to your question.
Let's proceed!
How does BSS on Cloud Boost Revenue Opportunities?
As networks and services are growing, ISPs are advancing to the BSS on Cloud to enjoy the benefits of competence areas. This will accelerate the time-to-market and time-to-revenue i.e. boost revenue by improving top-line growth, reducing capital expenditure (CapEx), and scaling with flexibility.
By moving BSS towards cloud design principles, CSPs lock in key financial, operational, and technological benefits, and also pave the way for future 5G use cases which helps in reducing cost and improves agility which ultimately boosts revenue.
How ISPs Benefit From BSS on Cloud?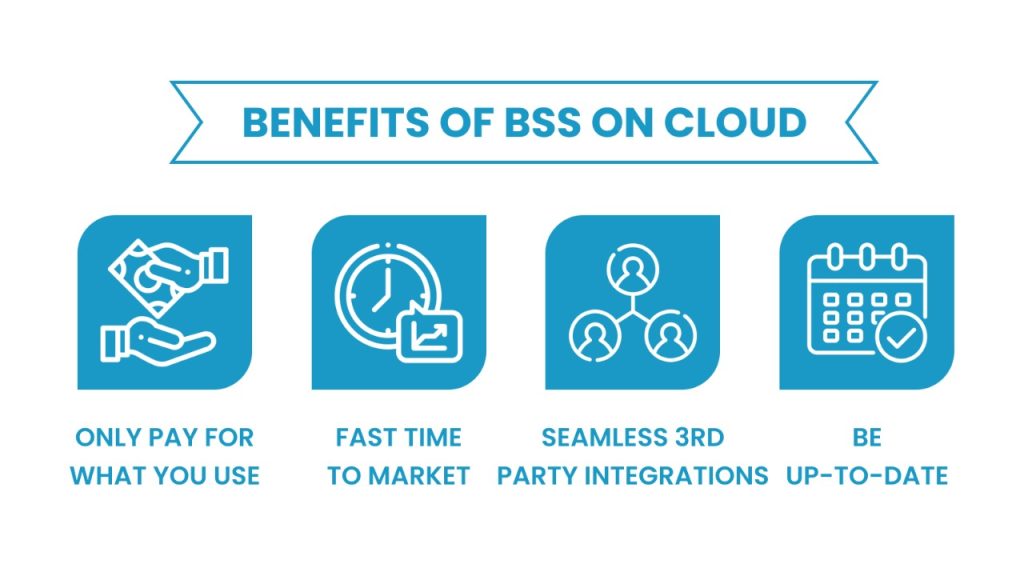 Only Pay For What You Use
The BSS on cloud allows you to pay only for the infrastructure you use. You don't have to pay for infrastructure just on the off chance that your customer base will increase. It is scalable also. You can scale up and down the resources whenever you need depending on your business needs.
Fast Time to Market
Cloud BSS makes things work in a few clicks making it much quicker and cost-effective. It breaks down the software components that enable simplified life-cycle management, faster integrations, and better resource utilization. All these ultimately help telcos to boost up the time to market.
Seamless 3rd Party Integrations
After the covid-19 pandemic, we are witnessing the tremendous growth of the digital transformation that too at light speed. Telcos all around the world are looking for new potential revenue streams, markets, and customers. Cloud BSS can integrate with 3rd parties in just a couple of days making customization easier for the telcos.
H8 Cloud BSS solution allows seamless 3rd party integrations like WhatsApp integration, payment gateways, iOS, and Android applications, SMS Gateway/Messaging system, Email Gateways, OTT Players, IVR System, CAS/DRM/Middleware, Voice System, NMS/EMS, VAS, Accounting System and much more.
Be Up-to-date
The implications of updates in a business setting are far more significant. Each BSS update can mean getting new additional features and capabilities, which in turn can mean more and happier customers. The simple press of the update button offers telcos the potential to tap into different markets and sell different types of services without paying for customization.
Let's take 5G, for example. If your platform doesn't support 5G and you cannot go to the latest version of the software, you are not only paying for something in vain, but you are also missing out on potential market opportunities.
In Conclusion
The benefits of BSS on Cloud will transform the monetization capabilities of the telecom business. Organizations must look forward to deploying Height8's BSS on Cloud offerings. Height8's BSS on the cloud is built for innovation, offers greater advanced technological services, and is supported with a mobile-centric platform.
Have any questions or want to know more about BSS on Cloud? Write us a mail at h8ssrms@height8tech.com or call/WhatsApp us at +91-6358931775.
Follow us on Facebook, LinkedIn, Twitter, and YouTube to get updates on the latest technological advancements in the telecom sector.